How to correctly operate an industrial videoscope ?
An industrial videoscope is able to see into the small narrow hole or internal of the target inspected object, and it is able to effectively detect and inspect internal defects are not required to dismantle the equipment which avoid destroy the equipment, nondestructive testing is a characteristics of inspection of an industrial videoscope. The core element to realize NDT is inspect the hole or internal of the target inspected object to show or present via optical imagery or video. As the result of that, inspectors are able to see defects of the inspected objects. JEET VIDEOSCOPE shares you how to correctly use an industrial videoscope in details as the following.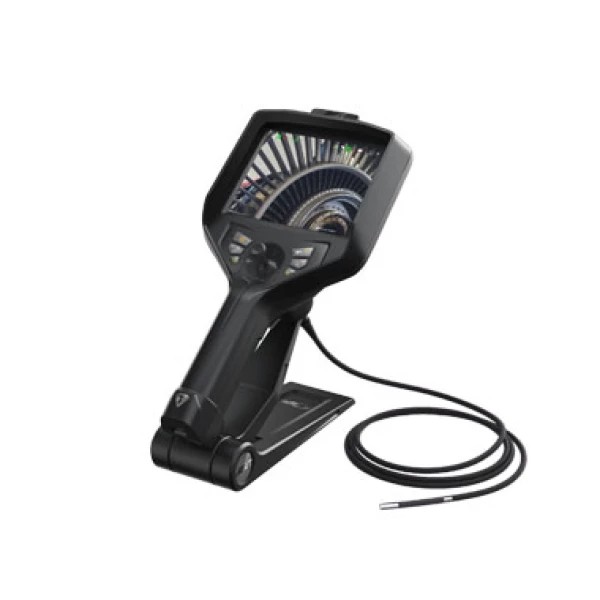 The principle of a videoscope looks easily, but in effect, it is complicated equipment. An industrial videoscope is made up of the following parts, probe, handheld part, display, host, etc. Handheld industrial videoscope integrated with image display and host. Positioning of measuring instrument, video, real time display, picture processing, defect measurement, test process report. A handheld industrial videoscope is able to realize many inspection task. It looks simple, but we must use correctly to achieve the expected detection purpose.
1. The probe of an industrial videoscope has a high requirement of environment temperature, if the temperature is too high, it will hurt the probe. Therefore, we need to ensure that the temperature of regions will be inspected not too high before enter the engine. Otherwise, it is easy to damage CMOS.
2. The probe cannot be fold. It is easy to damage the probe. In the process of inspection, if the tube or probe gets stuck, or there is an obstacle blocked, do not pull the tube or probe in force out of the inspected object, it needs to adjust the direction, clear obstacle, and make the tube enter and out of the object free. The tube is easy broken need to well protect as there are a lot of internal data cables. If the data cable is broken, the videoscope does not work.
3. After finish inspection, it needs to clean the probe lens, and puts the probe lens back to the protector. Every component is moved needs to placed originally in the instrument case.
Shenzhen JEET Technology Co., Ltd is known as JEET VIDEOSCOPE, a high-tech enterprise located in the innovation city of Shenzhen, China. JEET is professionally researching, developing and producing all types of high-quality visual testing (VT) equipment, like industrial videoscopes,  360°articulating borescopes, police security endoscopes, joystick endoscopes, automotive videoscope, UV videoscope, and 3D Measurement Industrial videoscope. JEET has variety Series of videoscopes, like S series, T35H series, T51X series, F series, Q series,etc.