JEET VIDEOSCOPE 1.8mm small diameter industrial videoscope let inspection tasks become much easier
In visual inspection technology industry, an industrial videoscope is commonly used inspection equipment, it is widely used in many industries, and it can inspect the places and areas where human eyes cannot see. With an industry videoscope, the inspection tasks can be easily carried out. The probe in the end of the tube is able to bend, 360°accurate articulation, it is convenient to users to know about the equipment, workpiece, and the internal of tube.
In general, in Chinese domestic market, if there is customer consult industrial videoscope information, and directly ask the price. At this moment, we will ask the customer to provide the field-tested information, if it is necessary, we are able to visit the customer to know about the information, and carry out the inspection test.
As the inspection environment is very different, so it has different technical requirements of an industrial videoscope. For example, some customers use the industrial videoscope in an inflammable gas environment, so they need to use an anti-explosion videoscope. We know about the information of inspection environment is allow us to avoid apply inappropriate product, as the result of that, it can reduce the costs. Furthmore, some customers need small diameter inspection tube, and they need articulation to inspection the internal of the target inspected object, now small diameter probe and tube industrial videoscope is essential.
JEET viseoscope can be applied in different inspection environment, and provide a suitable solution to customers. We have customize design for different long, DOF, diameter of tube, we also have customize design for different materials of tube, like alloy spring tube, stainless steel to fit in different inspection environment.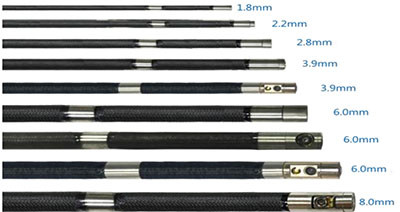 JEET videoscope very small diameter tube industrial videoscope only 1.8mm, it can enter the narrow spaces. Welcome to consult us, we will provide best services to you.
Shenzhen JEET Technology Co., Ltd is known as JEET VIDEOSCOPE, a high-tech enterprise located in the innovation city of Shenzhen, China. JEET is professionally researching, developing and producing all types of high-quality
visual testing (VT) equipment
, like industrial videoscopes, 
360°articulating borescopes
,
police security endoscopes
,
joystick endoscopes
,
automotive videoscope
,
UV videoscope
, and
3D Measurement Industrial videoscope
. JEET has variety Series of videoscopes, like S series, T35H series, T51X series, F series, Q series, etc.