Auto maintenance artifact - JEET QT360 Sesries professional car videoscope detection tool
Auto maintenance artifact - JEET QT360 Series professional car videoscope detection tool
Auto maintenance artifact - JEET QT360 Sesries professional car videoscope detection tool
With the globalization of the economy, cars have now become an indispensable means of transportation for many families. Therefore, the car carries the heavy responsibility of family travel safety, so the regular maintenance and repair of the car is very important.
So, as a car owner, have you heard of "car camera"?
In fact, the car borescope is an artifact of auto maintenance and maintenance. When the car engine fails, the traditional diagnosis method is to judge whether the cylinder has a problem by listening to the sound of the maintenance staff. Disintegration can determine the "cause".
However, by using a car endoscope, the probe can be inserted into the cylinder through the spark plug hole or fuel injection nozzle, and various faults inside the cylinder can be directly observed, such as carbon deposition, cylinder wall strain, etc. It not only improves the work efficiency, but also greatly reduces the time and money cost of repairs, and also avoids the damage caused by the repeated disassembly and assembly of the parts.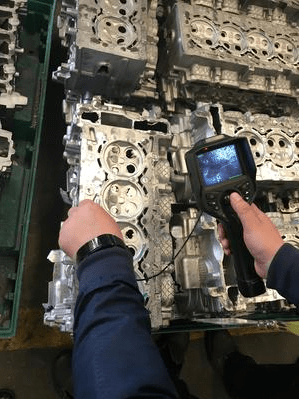 Auto Repair Borescope
QT360 Sesries all-way rotating videoscope
Auto maintenance, carbon deposition cleaning, Auto engine
QT360 Sesries all-way rotating borescope is a 360°omnidirectional and precise steering mobile phone video endoscope independently developed by Shenzhen Jietai. This product can realize 360°probe rotating and 210° large-angle bending. Once this QT360 Sesries borescope came out, it was well received by car manufacturers, Auto repair shops and Auto 4S shops.
Every detail of the QT360 Sesries and the selection of materials are strictly controlled by the R&D team.
Product functions and features According to previous customer research, in order to meet customer needs, every function on the machine has been carefully selected.
This product is not only durable and equipped with many useful functions, but also the image effect should not be underestimated. Concealed spaces that are not easily accessible, such as tight spaces and household plumbing.
The detection advantage of automotive endoscopes is that the detection results are clear at a glance, and the detection process is completely harmless to the vehicle. JEET Sesries borescope/videoscope/flexible endoscope can help you inspect your vehicle faster and better. Therefore, the car endoscope is not only an artifact for car lovers to understand the condition of the car, but also a new generation of detection artifact in the field of automotive maintenance.
In addition, car borescopes can also be applied to many places↓↓↓
Do you want to have such a good "car artifact"?