JEET videoscope applied in construction industry
UV videoscopeIndustrial videoscope inspection method is a kind of NDT inspection method. It is able to use in manufacturing industry, aircraft maintenance, ship manufacturing and maintenance, automobile industry, metro, industrial equipment manufacturing and maintain. We can find out the spare part defects during inspection to prevent hidden danger. In the same time, an industrial videoscope can be applied in the inspection task of boiler, gas cylinder, pipeline, casting, valve and other equipments. JEET share you the applications of an industrial in construction industry as the following.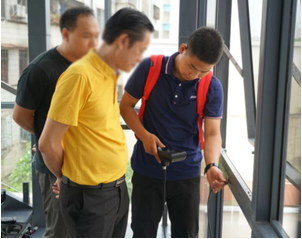 1. Building inspection: inspect the internal of building walls, roof, beam column, to find out whether it is foreign object, corrosion, get rusty. Inspect the ventilation system, network cable, electric appliance, installation of electrical equipment, or there is a foreign object, corrosion, get rusty inside.
2. Bridge inspection: inspection the quality of the bridge, to find out whether there is defects in parts of the bridge.
3. Pipeline inspection: inspect the pipeline to find out whether it is foreign object, corrosion, get rusty.
4. Elevator inspection: find out the defects in elevator, and let maintains task becomes much easier.
Shenzhen JEET Technology Co., Ltd is known as JEET VIDEOSCOPE, a high-tech enterprise located in the innovation city of Shenzhen, China. JEET is professionally researching, developing and producing all types of high-quality
visual testing (VT)
equipment, like
industrial videoscopes
, 
360°articulating borescopes
, police security endoscopes,
joystick endoscopes
,
automotive videoscope
,
UV videoscope
, and
3D Measurement Industrial videoscope
. JEET has variety Series of videoscopes, like S series, T35H series, T51X series, F series, Q series, etc.