LED or Optical fiber, which kind of light source is better for an industrial videoscope?
In industrial videoscope industry, the light source is an essential part of of an industrial videoscope. There are 2 main types of light source,LED and optical fiber.
It is vital for us to know about the advantages of light source LED or optical fiber. Also, we need to know what is LED, and what is optical fiber?As the results of that, we can know how to choose industrial videoscope light source based on our requirements.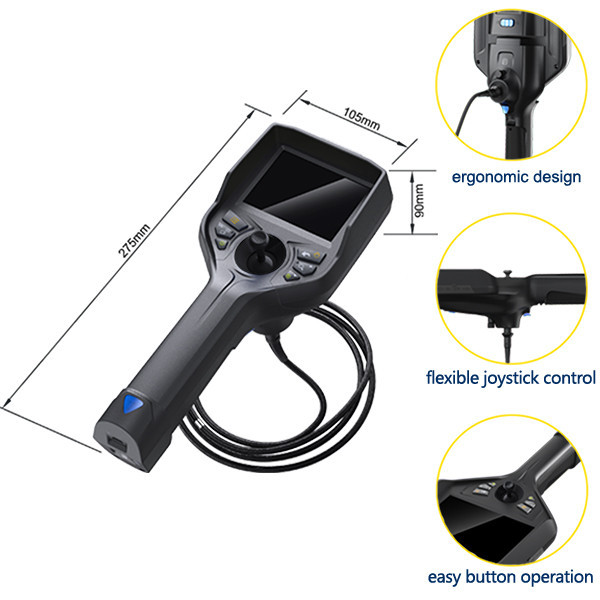 A light-emitting diode is a semiconductor light source that emits light when current flows through it. Electrons in the semiconductor recombine with electron holes, releasing energy in the form of photons. The color of the light corresponding to the energy of the photons is determined by the energy required for electrons to cross the band gap of the semiconductor. White light is obtained by using multiple semiconductors or a layer of light-emitting phosphor on the semiconductor device.
An optical fiber is a flexible, transparent fiber made by drawing glass (silica) or plastic to a diameter slightly thicker than that of a human hair. Optical fibers are used most often as a means to transmit light between the two ends of the fiber and find wide usage in fiber-optic communications, where they permit transmission over longer distances and at higher bandwidths (data transfer rates) than electrical cables.
In industrial videoscope industry, there are two kinds of light source, front-facing LED and rear optical fiber, the following are the differences.
The front-facing LED is made from LED guide plates are set in the front of videoscope lens, the advantages of front-facing LED is low cost, easy to install, highly cost performance.
Rear optical fiber is not easy to heat, has a high illuminance, normally the illuminance is able to reach 10,000Lx.
For which light source you choose, it depends on your requirements and budget. JEET VIDEOSCOPE , you not only can choose LED or optical fiber light source of videoscope, but also can choose different diameter of probe, length, and other functions.
JEET VIDEOSCOPE
provides professional VT solutions for your choices,
we welcome you
contact us at anytime.